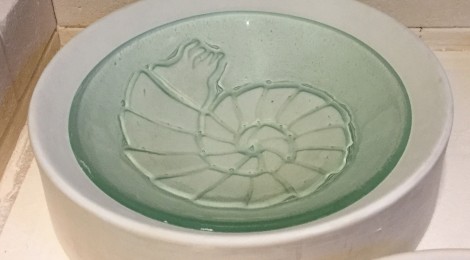 Fused Glass Workshops – New Reviews and Dates
We've come to the end of our Fused Glass Workshop year, just some fusing still to be done from our November workshops.
It's nice to look back on the feedback we've had during 2017 and look forward to the new workshops we've planned for 2018.
"I was an absolute beginner, the teachers were extremely patient and encouraged me to try and do things that I thought might be beyond my capabilities.  I have made 7 items from a simple coaster to cutting petals and making a poppy bowl.  As the class was on Remembrance Sunday I will always look at this and remember a really wonderful but tiring day with other like minded friendly people" Lynda
Lynda's Poppy bowl about to be slumped into a mould.
"Amazing! If you're uncertain just book it.  Not only will you meet some lovely people, but you'll also surprise yourself at what you can produce (with the expert help of Jean and Janice)  Loved it!" Judith
"I have attended this course on a number of occasions and I love going back. Mainly for the friendly and knowledgable instructors and the home made bread and chutneys!  Would highly recommend this class to anyone.  You will be amazed at what you can achieve, even on the first try.  It's highly addictive and after the first go you'll be bursting with new ideas to try out.  It's a really fun environment, made so by the hosts, in a lovely part of the world.  Make a weekend of it". James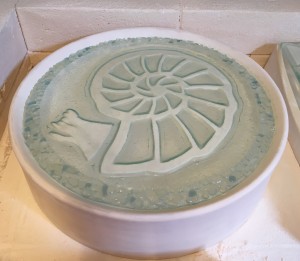 One of James' beautiful bowls waiting to be slumped into a mould.
Our Dates for 2018:
3 Feb
4 Feb
28 April
29 April
2 June
3 June
14 July
15 July
13 October
14 October
10 November
11 November
Please see workshop shop page for full details.
We've loved our workshops and feel privileged to meet such lovely people during the year!